Now that Annual Wellness Visits (AWVs) can be done via telehealth, it's the perfect time to expand the program to all Medicare patients. Smartlink makes it super easy by automating the most time consuming tasks required to complete an AWV. Much of our AWV questionnaire is auto-filled from the EHR.  From there, Smartlink AWV auto-checks patient eligibility for preventive care and automatically builds the Personal Preventive Plan.  Providers receive a summary report, saving time for them as well by eliminating the need to review the entire AWV questionnaire.
Staff Efficiency
Complete AWVs significantly faster
Patient Experience
Easier and less time consuming for patients
Clinician Friendly
Summary report speeds clinican review.
CCM, BHI, AWV, and TCM. All in ONE platform.
Provide Medicare's wellness and care management programs to patients from a single, comprehensive platform.
Providers
Establish an annual care map for your patients and a new revenue stream for your practice.
Case Management Services
Improve operational efficiency, easily expand the services you can provide from a single platform, and drive both patient and customer satisfaction.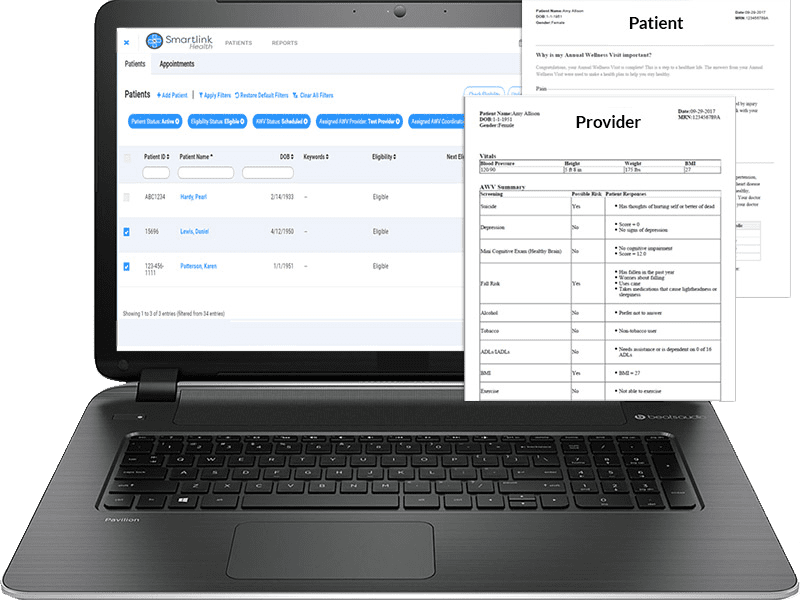 AWVs Done the Smartlink Way
Electronic pre-check of eligibility for preventive services

Ability to auto fill the Health Risk Assessment (HRA) with
Meds, Problems, and Allergies
Ability to add custom questions to the HRA
Personalized Preventive Plan for the patient based on actual eligibility
for preventive services
Provider summary report based on patient's responses to the HRA