A successful Chronic Care Management (CCM) program requires more than people to make the monthly calls and technology to track and document time. The three critical success factors often missing are providing value to patients in every call, truly improving the quality of care and an efficient workflow. These factors are critical to getting and keeping patients in the program and running it in a profitable way.
Smartlink CCM can help.
Patient Retention
Guided dialog that is high value for patients
Better Care
Target quality measures and cost of care.
Profitability
Clinician designed for optimal efficiency
CCM, BHI, AWV, and TCM. All in ONE platform.
Provide Medicare's wellness and care management programs to patients from a single, comprehensive platform.
Providers
Ensure your most vulnerable patients are getting the care they need plus generate new revenue.
Case Management Services
Maintain a high level of productivity and customer satisfaction as you scale your business.
Physician designed and based on two decades of experience in managing the care of 1.5 million Medicare and Medicaid patients

Condition specific, evidenced based patient talk tracks that guide meaningful bi-directional dialogue with patients

Customizable clinical triggers and alerts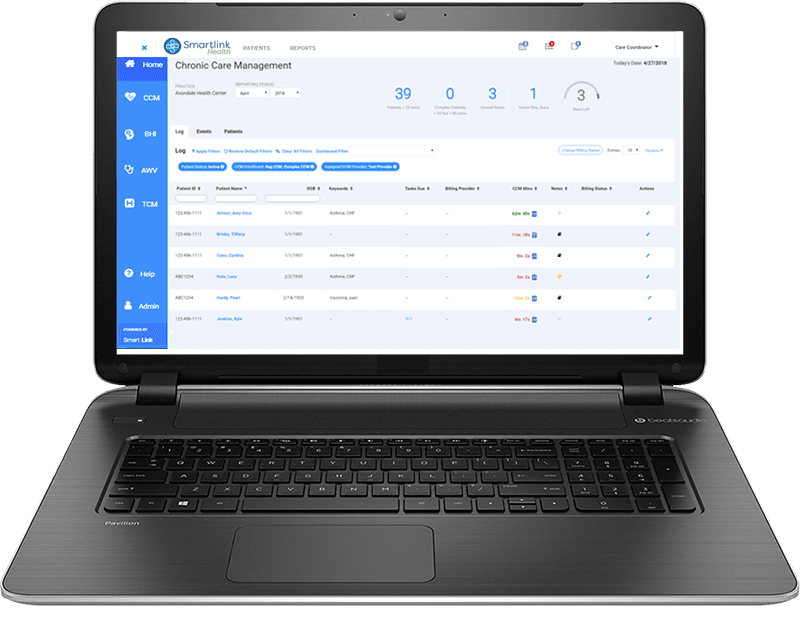 Now's the Time to Leverage Medicare's AWV, CCM, and BHI Programs. Get started with CCM today.
Contact us today at 877-502-3067 or info@smartlinkhealth.com.