"It was way more expensive and took way longer than we were told it would." If you've ever been involved in an EHR data integration project, chances are you've used very similar words to describe the experience. When Antwanye Ford, the CEO of Enlightened Inc. began work on the District of Columbia's HIE Connectivity Grant, he set out to tackle these challenges upfront.  Ultimately, Antwanye and a group of select partners met the goal of connecting over 100 eligible Medicaid providers to the HIE, on time and within budget.
Team Enlightened, a consortium of organizations led by Enlightened Inc., including the D.C. Primary Care Association, CRISP, Zane Networks, Children's National Health System, and Smartlink Health Solutions, was awarded the $5,050,000 grant. Two and a half years into the three year project, I sat down with Antwanye to learn more about how his team overcame the EHR integration challenges and better understand the impact the project has had on helping the District manage through the pandemic.
Tell me about the HIE Connectivity Grant and its primary goal.
The full name of the grant is the HIE Connectivity Grant: Connecting Patients and Providers with Health Information Exchange. Its core mission is to ensure that the District's uninsured, underinsured, and low-income residents receive quality care at an affordable cost. In order to do this, you need data. But in order to get the data, you have to first educate people on the value of sharing information. Data drives the expenditures of dollars, proves or disproves the effectiveness of programs, and provides overall insight into health outcomes based on the types of services people are receiving. The grant funds cover the costs of provider education, onboarding and technical assistance, and the integration fees to connect providers to the DC HIE.
Antwanye, I know you have a passion for solving the challenges associated with health disparities. How would you say this project is playing a role in that?
Disparities come into play when you have a population of people who have pre-existing conditions and live in environments where there are food deserts, high unemployment rates, and a lack of access to proper healthcare services. COVID-19, for example, put a really big spotlight on the health disparities in our inner cities nationwide. In fact, I was part of the ReOpen DC Committee and one of the most startling studies we reviewed was one that showed a 20 year difference in life expectancy depending on where you live. That was stunning to me. This is exactly why we need to ensure that all providers – regardless of their technical capabilities – can participate in our HIE. Data is what drives information and access to information is what drives change.
What would you say have been the biggest EHR integration challenges you've faced with this grant?
Well, to start, the majority of our target providers don't have what I call '2021 level' solutions. Meaning, they have legacy or closed systems. These are providers like long-term and post-acute care facilities, prenatal, behavioral health, dentistry, school based clinics, etc. With closed systems, that meant there were no EHR standards in place, which meant we'd have to work with every version of every EHR out there. And if we had to work with every EHR vendor directly to do an integration, there was no way we would have met the grant stipulated timelines or adequately estimate the cost. And, quite candidly, if a provider had an uncommon or non-standard EHR, then we would have had to say, "If you don't switch to this particular EHR then you can't share data". This would have created the type of environment that begs the question "Is it about the tool or is it about the value of sharing data for a desired outcome?". Our entire mission is to educate providers on the value of sharing information and then make it easy for them to do so. If we demanded they change their entire workflow to accommodate how they share that information – there's no way we would have been successful.
Can you talk a little bit about why you ultimately selected SmartLink to partner with you on the connectivity piece? 
I'd say there were a variety of factors. First and foremost, it was your unique approach to integration. I'm an old school developer so I got geeky when I was first introduced to your method of using the user interface (UI) as the way to access data. It made total sense and I knew that it would be a very light footprint from a technology perspective. It wouldn't require people to install software, change their infrastructure or require effort from an end user perspective. I wanted the experience to be seamless for the providers so your solution was a critical piece to the puzzle in that way. The other factors were Smartlink's previous experience in health information exchange environments and the fact that the SDC solution is one hundred percent compliant relative to 42 CFR part 2, HIPAA, and the other state and local laws relative to health information exchanges.
What would you say have been the top benefits of using SmartLink Data Connector (SDC) for this project?
One word that comes to mind is reusability. There's some technology that you implement that you know is going to be used for one reason and is deployed in a specific way, but if you pivot your strategy, you have to think about implementing another solution. SDC is flexible so it can pivot with changing requirements. That's huge. Along those same lines, it's not limited to particular EHR's or operating environments. From a pricing perspective, it's also more affordable than what many of the individual EHR vendors are charging their customers for doing the same thing. So, flexibility, competitive pricing, and the last piece is consistency, both in terms of timeframe as well as data quality.
I know it's early, but have you heard anything anecdotally or seen anything from an outcomes perspective specific to the providers that are now connected? 
Actually, from a performance measurement standpoint, Team Enlightened has consistently succeeded in meeting the goals of the grant for outreach, training, onboarding, and connectivity. That's quite an accomplishment. I'd say because of working with Smartlink, the cost, complexity, and level of effort that were initial barriers to connectivity were completely eliminated.
From a care standpoint, it's been rewarding to hear positive feedback about Smartlink from some of our more economically challenged providers. These are folks who don't have the capital dollars to buy all the fancy equipment and services yet are taking care of our most 'at risk' individuals inside of the district. They were also some of the hardest hit by COVID-19. I've heard them say things like, "Now I know when my clients have been admitted to the hospital and can understand what happens to them once they've been discharged". This is information they've never had before and helps them track how treatment plans are being implemented, ultimately leading to better, more coordinated care and better health outcomes. Also, it's been cool to see the impact of being connected to the HIE in regards to visibility into patients that have tested positive for COVID-19. This has allowed special measures to be implemented to protect other patients as well as optimize the use of expensive and scarce resources, such as Personal Protective Equipment (PPE). 
For more information about the great work that Enlightened is doing in our nation's capital, email Antwanye at aford@ENLIGHTENED.com. If you're interested in learning more about the user interface approach to data integration, send an email to info@smartlinkhealth.com.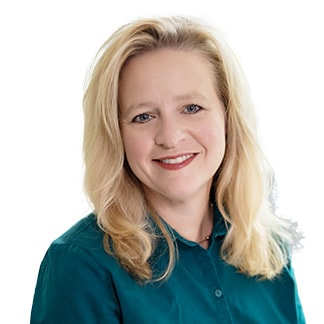 Ginny serves as Smartlink Health's Chief Commercial Officer and is passionate about 'all things healthcare'. Part strategist, part hands-on tactician, Ginny possesses a unique blend of marketing, sales, and value-based reimbursement expertise. When she's not in her office, you'll find her on the tennis courts or hanging out with her husband and daughters.